Spilling It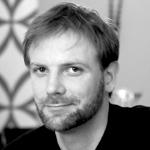 Andrew Porter
Andrew Porter is the author of the short story collection, The Theory of Light and Matter, which won the 2007 Flannery O'Connor Award for Short Fiction and was recently republished in paperback by Vintage/ Random House. A graduate of the Iowa Writers' Workshop, Porter has received the W.K. Rose Fellowship in the Creative Arts, a James Michener Fellowship, The Drake Emerging Writer Award, and a Pushcart Prize. His fiction has appeared in One Story, The Threepenny Review, The Antioch Review and on NPR's "Selected Shorts." Currently, Porter lives in San Antonio, where he teaches creative writing at Trinity University.
+ Website
An Interview with Andrew Porter (by Richard Kriheli)
Oftentimes I hear about authors likened to the immeasurable Raymond Carver. Being a fan, I snicker at the suggestions, but it never stops me from curious investigating. At times the comparisons are warranted (Richard Ford). Most times however, not so much (sorry, Richard Russo). Naturally, I expected the latter when I first learned about the work of Andrew Porter. While I think it's unfair to pit scribes against one other in a literary celebrity deathmatch, it was clear that Porter could hang. His exhaustive list of achievements and acclaim back up the magnificent prose to a tee.
I met Andrew Porter a little over a year ago at a reading in McNally Jackson Books in New York City and learned that not only was he a brilliant writer, but he's also a really, really cool dude. He's extremely engaging, personable and he likes to talk shop. When I shared my plans of launching SPLIT several months ago, he echoed my enthusiasm for the project. I figured the "Spill" issue would be the perfect spot to coax him into divulging details about his burgeoning literary career. Thankfully, he obliged.
RK: You had a significant collection of writing once lost in a burglary. How did you bounce back?
AP: Well, it wasn't easy. After I lost all of that work—basically almost everything I'd written up until that point in my life, including a collection's worth of stories—I entered what would become a fairly dark period of time in my writing life, two or three years during which I basically stopped writing, cut off ties with my agent and strongly considered other career paths. At the time I was teaching part-time at various colleges out in California, mostly Freshman Composition courses, and I was really struggling just to get by. I also knew that the chances of me ever getting a tenure-track job without a book were pretty slim, so I began to look into other things I might do with my life. I thought about technical writing, freelance writing, even law school. I don't know that I'd completely given up on writing fiction at that point, but I had definitely put it on the back burner. Anyway, it was around this time that I got a phone call one day from the University of Maryland, Baltimore County asking if I'd be willing to fly out to Baltimore to interview for a one-year Visiting Writer position. I had applied for this job on a kind of whim several months before, and had been surprised by the invitation, and even more surprised when they later offered me the job. Even now, I think of that phone call as a major turning point for me, a sign that it might not be too late to make another go of it. And so, over the course of that year in Baltimore, I started writing again. I worked slowly and steadily, and though it wasn't coming easily, I eventually finished a short story I was happy with, "Coyotes" (which is actually the second story in my collection), and then another story after that, and so on. Eventually, these stories began to find their way into print, and with each publication I think my confidence began to grow a little. Anyway, in answer to your question, it wasn't something that happened all at once, but rather something that happened gradually, over the course of several years, and, as I said, it definitely wasn't easy.
RK: And return you did. Your remarkable short story collection "The Theory of Light and Matter" won prestigious awards and earned you well-deserved acclaim. Talk about that upsurge and how it spilled over into a career.
AP: To be honest, before the book was published, I couldn't have imagined it would have had as long a life as it has. I figured I'd probably just do a few readings, sell some copies to family and friends, and that would be that. I definitely couldn't have imagined a publisher like Random House giving it a second life or any of the other nice things that have come along with that. I mean, when you put a book out into the world, you really don't know what's going to happen, and you just kind of hope that a few people like it and that you sell a few copies. Anyway, in terms of my career, it's definitely changed things, but I think I'm most grateful for the fact that the book has given me a chance to meet and connect with other people, people who I would have otherwise never met.
RK: Literary fiction tends to appeal to a smaller, more intellectually bent audience. A primary goal for most writers is to get read and enjoy a symbiotic author-reader relationship with a meaningful stream of feedback. Agree or Disagree? Tell us about the feedback you've gotten in your career and it's weight.
AP: I definitely agree. I mean, the daily routine of writing can be pretty lonely work, and so the payoff—at least for me—is finally getting the work out there and getting to hear what other people see in it, the various interpretations that come from readers of different ages, backgrounds, cultures, and so on. One of the things I've most enjoyed is actually getting to sit in on book clubs and classes that are discussing my work while I'm in the room. It's a very strange experience. Inevitably, at some point, someone will turn to me and say, "Is that right? Is that what you intended?" And I'll always laugh because the truth is that it doesn't really matter what I intended at that point. I mean, once you release a book out into the world you kind of relinquish a certain amount of power over it, and so all you can really do is sit back and listen. And that's really been my favorite part: just sitting there and listening to what people have to say.
RK: Your stories are out there, in the world, being digested and consumed. Presuming it doesn't end there, what's next for Andrew Porter?
AP: Well, right now I'm working on a novel, which is under contract with Knopf, and which I hope to finish in the next six months or so. After that, I may go back to writing short stories—I've really missed working in that form—though I also have another novel project in mind, so we'll see.
RK: Talk about the challenges in following up a well received debut. Are there any pressures, either self-imposed or from the powers that be?
AP: To be honest, I don't know that I feel any more pressure than I ever have. Of course, as I get closer to the publication date, I'm sure I'll start to feel a little nervous, but then again, I don't know a writer who doesn't. Over the past few years, I've actually been trying to put a little less pressure on myself. I used to work to the point of exhaustion, revising my stories to the point that I couldn't see straight, and I don't know that that was very good for the work or for my general well being. So I've been trying to relax a little more and enjoy my life. I always put in my two or three hours each day, but when I'm not writing, I try not to think about it too much. I don't obsess about it like I used to, and I think that's probably a good thing for the work itself.
RK: Tell us something nobody knows about Andrew Porter, the author. A literary confessional, of sorts.
AP: Well, I don't know if this really qualifies as a confession, but some people might be surprised to know that the majority of the stories in my collection were written between the hours of 2:00 a.m. and 6:00 a.m., which is my preferred time to write when I have a schedule that allows for it. I also have a weird superstition about walls, or rather interior spaces—I find writing indoors impossible—so I work almost exclusively on my back deck, and, if possible, very late at night. Of course, now that I live in a warm climate like San Antonio it's a lot easier to do this year round, but I can tell you, when I lived in Baltimore, it could get pretty darn cold out there in the winter.
RK: Thank you for taking time out of your busy schedule to speak with us. We're honored and it's been a pleasure. Any last words or stories you'd like to share?
AP: The pleasure has been all mine, Rich! This was a lot of fun. And I don't really have anything else to add except to say congratulations again on the release of SPLIT and on all the fine work you've done with it. Here's to many more years!