Your Bonfire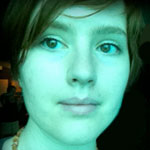 Holly Mitchell
Holly Mitchell is a 2012 recipient of the Gertrude Claytor Prize from the Academy of American Poets. Her poems can be currently or soon found at several journals including Ishaan Review, Lavender Review, and The Bakery.

+ More of Tony's work
arches into dusk.
A frog reaches out,
her arms flattened in the gravel drive.
So this is your home.
These are your denim boys,
your videogames and honeysuckle,
your burnt meats.
This is your father's
forbidden jug of peach wine,
your grandmother's pair of pit bulls,
your oiled ATV.
The boys I know are leaving,
fast in their tinted cars.
Katie unfurls in the hammock, the text
messages from her boyfriend
land on her brown lap
like sparks. Another rising
freshman melts into your thigh.
While I fetch tinder,
a strand of your red hair
flies inside my mouth.
This means nothing,
but you can't have it back.
© Holly Mitchell